Are you  a real estate retoucher or one of those who sell property online? Then you might be well versed with the fact that your sales depend a lot on the quality of property photographs that you as a seller use on your website or on your
portfolio
.
In today's digital world every real estate knows that clear and high-quality images not only attract the customers but also influence them to connect with you to take a look at the property and purchase them to become your customers.
Real estate retoucher
This has significantly increased the demand for real estate retoucher services as high-quality output can be achieved by outsourcing your work to the professionals in the market which will help you convert your leads into customers.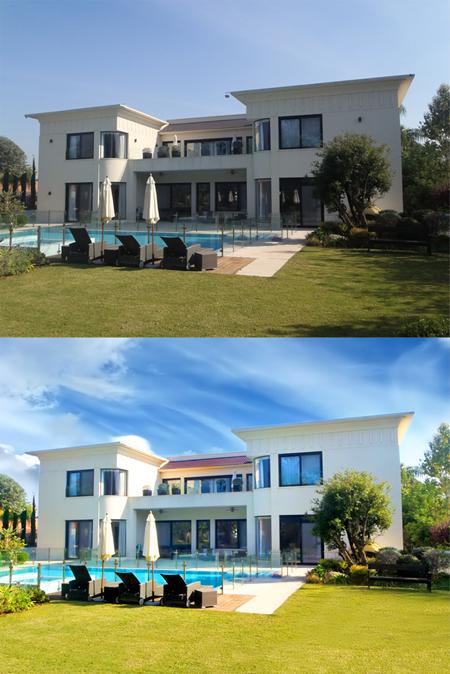 So, if you are running a professional real estate retoucher business and want to attract more target audiences and increase your customer base you can definitely outsource your real estate photo retouching services to us.
ACHIEVE REAL ESTATE RETOUCHER COMPETITIVE EDGE

With the advancement in the real estate sector, we can see many people entering the industry which has raised the competition bar and the number of competitors in the market.

By taking the help of our real estate retoucher experts, real estate business owners and agents can get a competitive edge by getting the images edited in the most professional way. You can get high-quality real estate images in less time which can easily attract and engage your target audience.
DAY TO DUSK SERVICES FOR REAL ESTATE RETOUCHER IMAGES

We have a professional team of experienced real estate day to dusk image editors that provide day to night conversion services to our clients so that they can get the desired view for their images.
Our experts hold expertise in adding favorable weather conditions, altering artificial lighting, adjusting and altering poor colors balance and color casts along with others.
DIGITAL DECLUTTERING SERVICES FOR REAL ESTATE IMAGES

We have a dedicated team of professional real estate photo editors on board that is specifically trained to perform advanced operations using the latest and innovative tools and clear all the clutter that your real estate images possess.
We assure you that by opting for our digital decluttering services for your real estate images you will get professional and high-quality images in return.

PANORAMA STITCHING SERVICES FOR REAL ESTATE IMAGES

The reason that we are a leading real estate photo editing services company is that we have dedicated experts on board that use the latest and innovative stitching software and technologies and deliver high-quality and professional real estate panoramic images.

HDR BLENDING SERVICES FOR REAL ESTATE IMAGES

Outsource your real estate image blending services to us and get attractive and engaging property views as output. We are experts in blending images and can therefore blend images that are shot in different exposure or spotlight to create pictures that are visually aesthetic and of high quality.
The best thing is that we use the HDR image blending technique.  This is to blend the images that are taken in different exposures. They also  have different shades of contrast and brightness. The expertise and the ability to use the latest tools and techniques help us in producing high-quality images that can actually satisfy our customers.
VIRTUAL STAGING SERVICES FOR REAL ESTATE IMAGES
The results that you will achieve by outsourcing your work to us will be as per your expectations as our experts work in close coordination with our clients to produce satisfactory results.The reason that we are able to provide premium virtual staging services to our clients is the in-house team of real estate photography editor that have years of expertise in serving global clients and produce superior results with industry-best turnaround time.
CONNECT  FOR PROFESSIONAL REAL ESTATE RETOUCHER
We are a real estate photo editing services company that has experience and expertise in offering high-end photo editing services online to our customers that are based around the globe. We are serving the market and have been providing real estate photo editing services for more years.
With our expertise and the support of the in-house team of image editing experts on board, we have managed to achieve a customer retention rate of more than 90%. You can outsource real estate image editing services to us and just wait to receive the best-edited images that can serve the purpose for which they were clicked.