Why is a catalog important?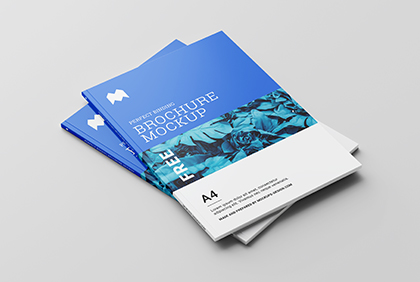 A catalog, like a logo or business card, is a tool used to identify and reinforce brand awareness. Marketing specialists know how much precision is involved in the creation of a catalog and how much a good catalog can make the difference in terms of sales.
It is essential to create a document that is, as much as possible:
functional: easy to consult and intuitively designed;
appealing: has a good firm cover, high-quality paper, a clear and modern layout, etc.
In which formats can a catalog be created?
First of all, let's see the catalog formats. A catalog is always created digitally, but the finished product can be one of two kinds:
Print catalog (e.g., desk catalog, IKEA catalog*)
Digital catalog (PDF, flipbook, an app, etc.)
*the most-distributed publication in the world. 211 million copies were sent in 2017 with the aim of promoting the activities of 328 shops in 28 countries.
Digital catalogs
Let's move on to the digital catalogs. Catalogs are created using digital tools, and today most companies use only digital means to distribute and promote their documents.
A digital cool catalogue design is usually created in the PDF format, for fast and easy delivery to customers. It is also possible to create flipbooks using dedicated software. Flipbooks are interactive, online publications that emulate paper magazines. To create a flipbook, it's often necessary to have a complete PDF of the document ready to be converted into an interactive format.
Digital catalogs present a number of savings compared to printing and distribution costs, which are close to zero. Moreover, sharing and promoting your document is more immediate, because you have only to upload it to your website and share it.
The benefits of a print catalog are missing in a digital one, though… These can be summed up in terms of greater readability, user-friendliness, and a general feeling of involvement and professionalism.
What parts make up a catalog?
Best catalogue design is a document composed of many different parts. Some are always used, like the cover, table of contents, and back cover; others depend on the kind of project and if they are required:
Front cover
Thumb index
Introduction pages: descriptions, advertising
Table of contents: chapters/sections, sub-chapters, page number indicators
Catalog: chapter separators
Table of contents: alphabetical order, or by code
Final pages: description, advertising, notes
Back cover
How do you organize a catalog?
The information we want to insert must be organized considering how the client will consult the catalog. You need to consider many elements: will the client look for products by category, or will he flip through every page? Would the client prefer a paper or digital version?
In most cases, if we are talking about a business catalog, it is useful to organize elements by category or by product attribute, such as price, color, application, and so on.
Catalogs with different uses present a different structure. Think about medical catalogs, for instance, in which articles are arranged alphabetically. Sometimes, it is useful to organize products in an intuitive way or using less strict criteria, maybe mixing the rules. In this way, customers will be more engaged by consulting every page.
Who is the most suitable person to create a catalog?
There is no one, single figure who creates catalogue design ideas. The answer is that many people are involved in the task.
Sales, marketing, IT, and graphics teams are all involved in the catalog creation process. The graphics department can be in-house or outsourced (to a communications agency / freelance graphic designer).
What elements do I need to make a catalog?
To create a catalog, you need:
Product Data
Images
Catalog Layout
Let's take a look at them in detail.
Product data
First of all, to create a catalog you need your product data. By product data, we mean: codes (SKUs / item numbers), category, subcategory, product name, description, attributes, prices, barcodes, etc.
This information can be contained in:
Business database / ERP systems: SAP, Oracle, IBM AS400, Microsoft Dynamics, Sage, Infor, ePromis, etc.
One or more Excel sheets (or CSV, TXT files)
XML files
SQL files
Company website
Previous catalog files (Adobe InDesign, QuarkXPress, etc.)
Images
Previously, once you have collected all the textual information you want to insert in your document, you must gather all the articles' images and the eventual symbols/icons, if needed.
If you are creating a print catalog, you will need high-quality product images (200/300 dpi). Good-quality images are essential for making your catalog into a professional document.
Often, you will not have all of the product images at your disposal and might try to retrieve them from your company's website. These images will not be of good quality (usually 72 dpi); therefore, they are not suitable for use in a print catalog.
When you have all the necessary elements gathered, you can move on to the operative phase of the catalog layout creation. In this phase, the graphic designer is involved, much more so if you are creating the first edition of the catalog, or if you are looking for a restyling of your previous layout.
The graphic design can be done by an in-house worker or outsourced to a freelancer or communication agency. The designer will help you solidify your ideas about how to organize both the product information and images and take a care of the style of the:
Cover and back cover;
The introduction pages;
Page layout/Master pages: header, footer, thumb index, category's color, page columns (1, 2, 3, or more), etc.;
Table of Contents (TOC): Classic sort order (page number sort order), Photographic TOC, Alphabetical order (by category, by product, by what you want) and Chapter Separator TOC;
Chapter separators;
Product layouts (check four examples of different product layouts in the image down below);
Creation of specific industry icons/symbols.
The designer will create many drafts, usually using Adobe InDesign, until all of your requirements have been fulfilled.
The publishing process: What kinds of publishing processes are there?
Once the layout is approved, one of the crucial steps begins: the publishing process. This consists of inserting the information into the catalog in a structured way.
This step can be performed manually or using the automatic software.
We are talking about:
Manual publishing: Copy and paste (this requires a lot of time and is prone to error)
Automatic publishing: In-house/on-premises software (these software packages are very expensive, and layouts are difficult to create; support is a paid service)
Cloud publishing services: Cloud software or SaaS (inexpensive, layouts are fully editable, and support is included in the project price).
The manual publishing process
First of all, let's start with the manual publishing process. Creating your catalog manually consists of copying and pasting all data, piece by piece, from your data source into your document.
This is a task that can occupy a resource (in-house or outsourced) for a long time, several weeks/months, depending on how many articles/pages must be created. Another important element to consider when you need to make a catalog is the high chance of errors, due to the fact that a human drives this process, not a machine.
The automatic publishing process was born to overcome these drawbacks.
The automatic publishing process
The term "automatic publishing" refers to software/plugin solutions that allow you to automatically import product data from a datasheet/database into the document being created.
These are solutions that need to be installed in your PC, like classic software. Every computer needs its own software license. When you have to paginate, you can only work on a PC where the software has been previously installed.
These applications allow us to create documents in a specific format, or as a PDF. Only a few of them allow users to create files in Adobe InDesign formats (INDD, IDML, etc.).
In-house software presents disadvantages such as:
Not all data files are suitable for every software package. Each of them needs its own kind of data file: XML, CSV, Excel, etc.
The design process is limited. Layouts are created using default grids or, if you want to make changes, you must follow the software rules (hoping that what you need has already been implemented).
Learning how to use these programs is difficult, and there is not much online documentation to support them. You must also consider that each project is different and it will require different rules.
You will have to pay for training, which is often billed by the hour.
The competencies you must have knowledge of are in the "use it or lose it" domain. If you make a catalog once or twice annually, these competencies are easily forgotten. When you have to recreate the catalog, you will need a lot of time to remind yourself how to use the software.
The extensions of the created files belong to the software company. In this way, the source file can only be viewed on the PCs where the software is installed.
Usually, just one or two people in a company have the expertise required to use these packages. If they change position or are replaced, these competences are lost.
The cost for these packages is often about 15.000–25.000 euros, excluding updates, licenses, and training.
Cloud-based publishing software
Finally, cloud-based publishing software is software you can use online. These packages require no setup, and users can access them with a common browser like Chrome or Firefox.
Many software companies have discovered that Cloud technology is a good way to reduce software costs, increase product innovation, and improve support for their customers. Automatic publishing software has found in the Cloud a good place where it can easily grow.
Companies like Pagination allow you to create your documents online, completely on your own, anytime and anywhere, with no need to install software or have any specific competencies. To set up a project, you need only to share some samples of data (Excel, CSV, etc.) and the type of document you want to automatically create (PDF, InDesign format).
Pagination's catalog automation solution has many advantages:
Easy to use. There is no need for dedicated training
Complete freedom in the document layout creation (design) phase
The possibility of using every kind of data source (Excel, CSV, XML, exports from ERP systems / databases / business applications)
The Cloud system does not require any software setup. The software is available anytime, anywhere, and on any device (Chrome, Firefox, Safari, Explorer, etc.) and operating system (Windows, Mac OS, Linux, Android, etc.)
Files are created both in PDF (in high- and low-resolution, ready to print, or for digital distribution) and InDesign format (INDD, IDML). They are ready to be opened with Adobe InDesign and can be changed manually, when necessary.
The Cloud system gives you the ability to continue to use the PC during the document creation process, and an email notification system will inform you when the process has been completed and documents are ready to be downloaded.
The software is sold as an annual subscription fee. The price changes according to the kind of document you want to create, and it includes the document setup, evolutionary maintenance of the project, and fast customer service (via phone & email).
How much does creating a catalog cost?
Finally, let's see the costs to create a professional catalog. It is difficult to spend less than €2,000 for a design catalogue graphics project. Then, you should expect to add between €20 and €45 per single paginated page (unless you use an automatic publishing service). A 300-page catalog made for the first time without an automatic system could cost up to €10,000–12,000. Pricing depends a lot on how complex the product is and how many references it contains. By "references," we mean all of the names, descriptions, and values used. A catalog of modular furniture where each product is described in a chart of measurements and finishings could cost up to €40–45 per page.
An automatic publishing system can reduce costs considerably. Creating an editorial project with a cloud database publishing system can cost € 2,000–8,000, depending on the complexity of the document.