Why use outdoor signage design
Outdoor signs are part of a building's fingerprint. Corporate exterior signs are available in dozens of shapes, sizes and categories — each with a list of customizable detail work and features — and become the face of your business. Customers grow as familiar with business signs as they are with your goods or services. Don't leave these associations to chance. Consider custom outdoor signage as part of your company's next chapter of corporate visual branding.
Businesses in all industries use outdoor signage to:
Identify: When someone is looking for your business, they should see your signage prominently displayed. The right outdoor signage is key to identifying your company's office or storefront.
Impress: Capture the attention of those passing by your storefront, traveling in a car or walking down the street, making a lasting, positive impression.
Invite: Use an outdoor sign to entice key customer behaviors with active, call-to-action-inspired language mirroring other marketing materials.
Inform: Relay key information about the nature and personality of your business through your sign's designs, made exactly for your store or office front.
Instill: Form connections and establish relationships with real people as they take in your signage. Your outdoor signs should reinforce your branding.
OUTDOOR SIGNAGE VS. INDOOR SIGNAGE PRINT BRANDING
Businesses employ outdoor and indoor signs for various purposes. While both are common building features and should carry relatively cohesive designs, they are not identical — and shouldn't be.
SpeedPro studios can assist in creating interior and exterior signs with a few fundamental differences.
1. DIFFERENT OBJECTIVES BRAND STYLE GUIDE
Indoor and outdoor signs serve differing functions:
Indoor signs communicate specific messages to employees or customers who are already in your building. This means that, rather than enticing them to come inside, you can focus instead on messages like encouraging them to buy a certain product or helping them navigate the building. Indoor signs can also be mobile or permanent building fixtures following specific signage requirements.
Outdoor signage works best as strong, attention-grabbing promotional items that draw in potential customers. They're big, bold, large-format graphics with a focus on visibility and readability. They contain high-contrast color schemes and lighting elements meant to draw in the eyes of passing consumers while conveying a distinct branded message.
2. DIFFERENT CUSTOM DESIGNS BRAND GUIDELINES
Because they have different functions, indoor and outdoor business signs should feature different graphic designs. Various aspects of these signs tend to differ, including:
Size:Outdoor signs tend to be much larger than their indoor counterparts. The larger the sign, the wider its visibility — a primary concern for signs installed next to streets or mounted as a storefront sign to attract customers.
Text: The words printed on indoor and outdoor building signs will vary. Outdoor signs need large, high-contrast text to be easily readable, while indoor signs can be smaller and more prescriptive but still focused on legibility.
Colors: Outdoor signs may employ more bold, eye-catching colors, all to ensure they pop on a busy street. It's important to choose a color that will contrast with the sign's backdrop, whether it's a brick building, green landscape, or another location.
Graphics: Both indoor and outdoor graphics can include custom graphics as part of their overall sign design. Before adding graphics to their signage, a business owner should consider what an image adds to or clarifies a sign's message.
Other Design Elements: Lighting, placement, digital features, and 3D detailing will vary depending on whether it is an interior or exterior sign.
3. DIFFERENT AUDIENCES BRAND GUIDELINES TEMPLATES
Indoor and outdoor business signs are viewed by different people who are at varying levels of familiarity and loyalty with your business. If a customer is inside your business, they've already indicated an interest in your business.
This isn't necessarily the case for people outside your business who view your outdoor signs.
Some people who view your outdoor signage may already plan on visiting your business.
However, the people who pass by your outdoor signage need to be convinced that they should visit your business. In a sense, this makes them a tougher audience than for indoor signage.
BENEFITS OF OUTDOOR SIGNAGE BRAND GUIDELINES TEMPLATE
There are many benefits to incorporating custom exterior signs to your business or storefront, from the functionality to the artful aesthetics.
1. BUSINESS BRAND AWARENESS
Branding encompasses all the efforts a business puts into conveying a distinct look and persona. It merges marketing techniques and strategies with graphic design principles to distinguish your products, services and company from the competition.
In other words, your branding is what sets your business apart. Today's best branding strategies include outdoor signage as a key part of their designs. Cohesive branding can make or break a customer's impressions of you. As a highly visible, public-facing piece of marketing, outdoor signs are a primary promotional material that must align with the overall aesthetics of your business.
2. BUSINESS SIGNS STAND OUT FROM COMPETITORS
A person can come across between 4,000 to 10,000 branded messages per day. That's thousands of slogans, graphics, ads and artwork bombarding the senses, all geared toward establishing a connection and eliciting a consumer response.
Break from the pack with creative, custom signage that is authentic and meaningful to your business and your target audience. On busy streets or within shared buildings, this is particularly pertinent to ensure your business stands out for all the right reasons.
3. BOOST YOUR PROFESSIONALISM WITH CUSTOM SIGNS
Imagine a store without signs of any kind. Its exterior blends in with all the other storefronts around it. There's nothing to name what's inside, no indication of business hours, products, service types, sales or specials. A lack of signage can make a business appear unprofessional.
In contrast, quality exterior signage can boost your professional image. Large-format graphic designs convey thought and attention to detail. They signal a company's dedication to its image and make customers feel confident in the business.
4. ATTRACT AND INVITE CUSTOMERS WITH PROMOTIONAL SIGNS
Outdoor building signage is one of the first things visitors notice about your business. It conveys the personality and professionalism behind your goods and services. Customers use the information on signs to gauge what kind of experiences they'll likely have with a business.
The more you can craft high-quality, compelling signage with a distinct personality, the more you'll attract and retain target customers. This is especially important for businesses such as retail stores, coffee shops and restaurants that want to encourage passersby to stop in on impulse.
5. GIVE DIRECTIONS
Signs placed on the exterior of your building can serve directional or wayfinding purposes as well as branding. Designate your space, making it effortless for your customers and guests to find you without hassle.
This is especially important if you share an office building with other companies, if your business sits on a crowded street or if its entryway is off-street. Businesses located inside buildings like malls or multi-storied buildings can outfit their exteriors with outdoor signs to guide visitors and clarify directions, which is important to build a positive customer experience.
CUSTOM OUTDOOR SIGNAGE OPTIONS FOR BUSINESSES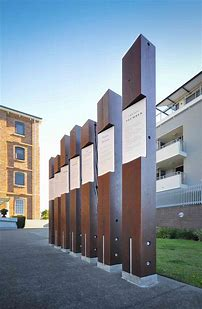 1. LARGE OUTDOOR SIGNS
Custom outdoor signs for building exteriors, with large-format signs and graphics can help you make your mark on your storefront. This sign category displays your company's name in feature fonts and signature color schemes. They can include detailing like your logo, three-dimensional design, backlighting and more upon request. Select from large-format signs in the following forms:
Chloroplast H-Frames: Square or rectangular signs fashioned from durable chloroplast or corrugated plastic substrate and mounted on an H-frame base.
Mounted Signs: Chloroplast, aluminum, aluminate, acrylic and vinyl signage installed directly on building walls, partitions, fences or other surfaces.
2. BACKLIT SIGNAGE
Backlit signs contain LED lights installed within or around a sign's frame, subsequently illuminating its letters and graphics. Backlighting elevates the look and functionality of your outdoor signs, and text is easier to read in inclement weather like rain or fog. It also pops more at night, adding a level of visibility to your custom signage and your storefront that it wouldn't have otherwise.
3. BANNERS
SpeedPro banners are multi-purpose, multi-purpose, multi-use outdoor signage with a number of customizations available for businesses. Hang banners from your store or office front in three main configurations:
Retractable banners: Retractable banner signs are sleek and lightweight. They are great for placement around building entryways and exits, welcoming customers into your store or advertising core products and services.
Grommet-hanging banners: Grommet banners can attach and secure onto fences, ceilings and building sides to display branded messages. Their rod-and-hook system is easy to take down and put back wherever you want your banner displayed.
Pole-mounted banners: With this type of banner, SpeedPro fashions banner pole pockets right into the design, making it easy to insert aluminum or plastic rods then mount the final signage.
Outdoor banners are most commonly made from high-quality vinyl or perforated vinyl mesh, with several protective laminates available.
4. FLAGS
Outdoor flags are eye-catching displays that flutter in the breeze and can be freestanding with a weighted base or require a stake to support them. Similar to banners, most outdoor flags are printed using UV ray-resistant inks and vinyl or vinyl mesh fabric bases.
SpeedPro prints corporate flags for outdoor applications in a variety of shapes:
Straight
Feather
Teardrop
Edge
And more custom shapes upon request
5. A-FRAME SIDEWALK SIGNS
Promotional outdoor signs find another popular form in a-frame sidewalk signs. These eye-catching yet straightforward signs work best in high-traffic sidewalks, entryways, courtyards and more, where customers can walk up and read sign text in a convenient, up-close manner. A-frames contain two opposing surface faces joined by a top hinge that, when folded out, gives the sign its distinct triangular or letter A shape.
6. ADA SIGNAGE
Businesses support inclusive and compliant buildings with Americans with Disabilities (ADA)-compliant outdoor signage. From handicapped reserved parking signs to properly sized outdoor wayfinding signage, you can rest assured your business maintains full regulatory compliance without sacrificing beautiful, brand-enhancing outdoor signage when you create ADA signage with SpeedPro.
7. CUSTOMIZED ORDERS
SpeedPro is happy to help create custom exterior signage for businesses and corporate clients. We're proud to house some of the printing industry's most contemporary technology and equipment, meaning if you have a vision for your building signs, we likely have the tools to bring it to life.
WHAT TO CONSIDER WHEN BUYING EXTERIOR BUSINESS SIGNAGE
There are a few tips and tricks to keep in mind when designing outdoor promotional signs for your business:
1. PLACEMENT AND VISIBILITY
Sign readability is paramount to your overall visual communications strategy and you can make an impact that onlookers can easily read and understand your sign. The goal of visibility is so vital that it should be at the forefront of your design choices.
Write in headline text: Writing in headline text is industry jargon for stripping away unnecessary words. After all, signs only have a few seconds to capture consumer attention. Choose high-impact, highly persuasive language to include on outdoor signs, and leave out the rest.
Follow the 10-by-1 rule: The 10-by-1 rule is a graphic design trick for properly sized letters and font spacing. It states that every one inch of the letter scale can be read a maximum of 10 feet away. This rule can help you determine how large your text needs to be so that the public can easily read it.
Clear the way: Customers shouldn't have to play hide-and-seek with your business signs. Strategic placement is also essential for drawing in new customers.
2. COLOR CHOICES
Select sign colors that stay true to your company's branded aesthetic. Most often, this means building exterior signs that match your corporate color scheme, amplifying your brand even further.
SpeedPro is only one in a handful of G7 Master Qualified large format printers ensuring color accuracy within 95% of CMYK Pantone standards. We also assist in high-contrast color scheme reviews to ensure your signs are ADA-compliant for the visually impaired.
3. PROFESSIONALISM AND PERSONALITY
The best outdoor signs for businesses are ones that balance professionalism with personality. You want to remain on-brand, conveying your products, services and value above the rest, and you also need to do so memorably. Customers respond to signs that are creative, surprising, thought-provoking and humorous — and will remember them longer, too.
HOW TO INSTALL OUTDOOR SIGNAGE
Installing your company's outdoor signage design depends on the sign type. Different custom signs require different installation steps and equipment. However, there are a few core steps to installing outdoor signs for your business regardless of signage size or variety:
1. DESIGN
Your company's exterior signs begin where all signs do — as a file image you create and submit to your full-service printer. Ensure you've accounted for the following in your draft:
Size
Color scheme
Background
Text
Logo and graphics
Backlighting
Single- or double-sided sign
Location and placement (freestanding, wall-mounted, overhead, etc.)
2. SITE INSPECTION
Will your ideal outdoor signage design work for your store or office? Many outdoor elements are in your control, but things like landscaping, terrain, street access and more can impede or complicate an initial exterior sign idea. You'll also need to test wall integrity if you intend to mount exterior signs on walls, plus source concrete or monument bases for pole-mounted signage. Conduct a thorough site inspection before submitting your final draft to ensure final installation lives up to expectations.
3. PERMIT APPLICATION
Permanent commercial outdoor signage design must be approved according to your municipality's zoning requirements. Local regulations will determine safe outdoor sign mounting, proper sign scales, compliant sign placements adjacent to streets and sidewalks, and much more.
4. DAY-OF INSTALLATION
Vinyl banners, flags and standing a-frame signage will not likely require special equipment to set up. However, large-format signs, backlit graphics and monument-style sign bases will. Installing these three custom outdoor sign types will require:
Digging equipment, to dig footed-in, regulation-sized bases into the ground for poles or fixtures
Heavy operating equipment, to move and hoist the sign and its mounting support pieces into place
NEC-compliant electrical wiring to power illuminated or backlit signs and digital components with safe, functionally connected outlet boxes, breaker boxes and sign transformers
Welding equipment for 3D sign pieces or components