With attention spans getting shorter and shorter it's never been more vital to find ways to differentiate yourself to capture your target audience's attention. 
One crucial element that can make your clothing brand stand out is your logo.
But if you have limited resources and no design skills, how can you get a great looking logo for your brand?
In this article, we're going to show you how to easily create a logo that will help you stand out from the crowd, and won't break the bank either.
---
#1 Overview
In recent years you either had to know how to use complicated design software or hire a designer via a site like Fiverr to create a logo for your brand.
Those are still great options but if you're looking to create your own logo these days you now have the option of using one of the top online logo makers.
Out of all the logo makers on the market, we think that Placeit is currently the best option, so we're going to show you how to create a clothing brand logo with their tool.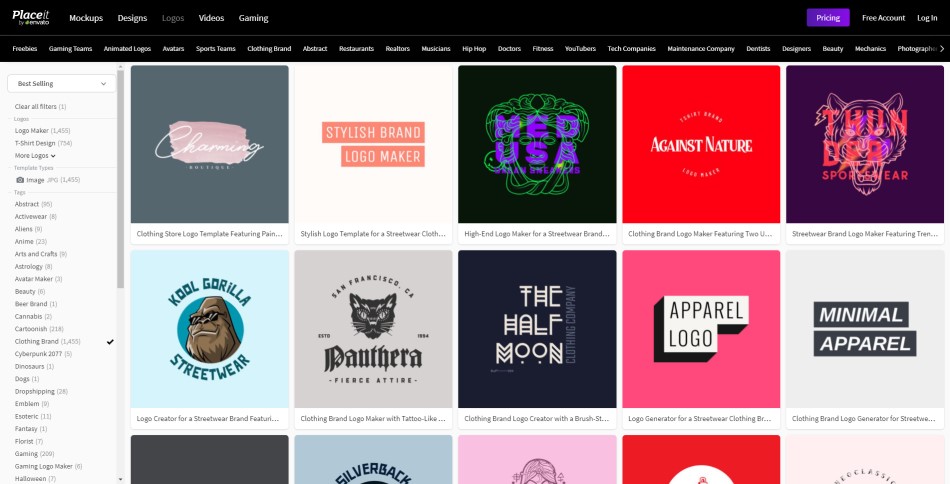 Why are clothing brand with logo important?
Before we get into how to actually create your logo, let's quickly cover why it's important to create a great logo for your brand.
We already touched on how people's attention spans are so much shorter today, and that logos are vital for catching your target audience's attention. Here's a few more reasons:
Identification – It simply shows that you're different from your competitors, and will hopefully accrue positive associations with your target audience over time.
It's expected – People expect companies to have some form of logo and branding, it's part of how they differentiate between brands and products.
Brand recognition – It helps people who have interacted with you remember your brand, and hopefully encourage them to come back.
First impressions – You rarely get a chance to make a second impression, and a logo can go a long way in creating a memorable first experience with your brand.
Consistency – People want to connect with you across a whole variety of platforms, and logos help to ensure your brand is consistently represented across the board.
What to consider when creating your clothing logo
Before creating your logo, make sure to have established the following:
When it comes to your brand ethos this is referring to the feelin your trying to convey with your logo and your brand, for example playful, strong, modern, etc.
With scalability you're thinking of where your logo will be used displayed. Will it look good no matter where it's on display?
Also think of your core message – what message or concept do you want your logo to convey?
Now let's get on with creating your logo.
---
#2 Finding & choosing a template
When you arrive at the logos section on Placeit, you can do one of two things – you can either enter your brand name and pick a relevant industry (e.g. Clothing Brand):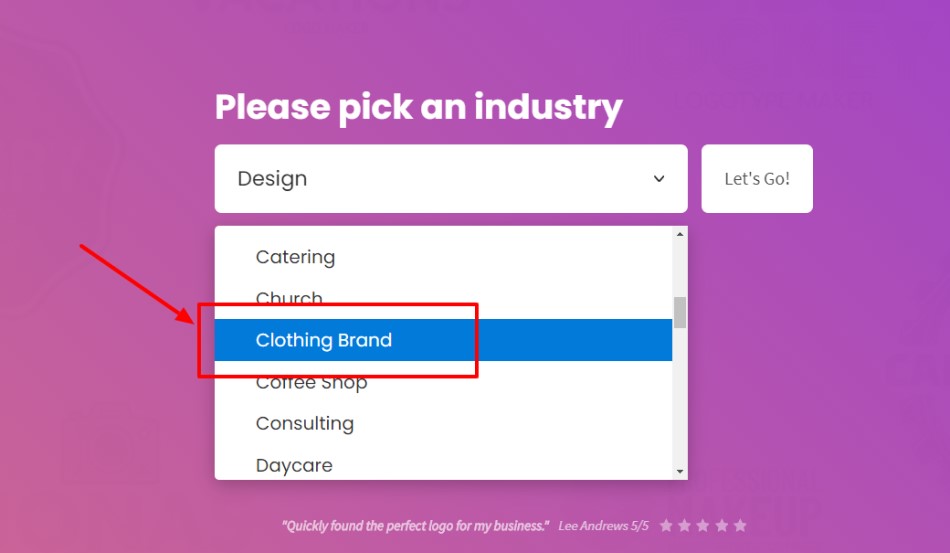 Or go straight to the logo template options by clicking 'see all our templates' or clicking on the relevant category in the main menu: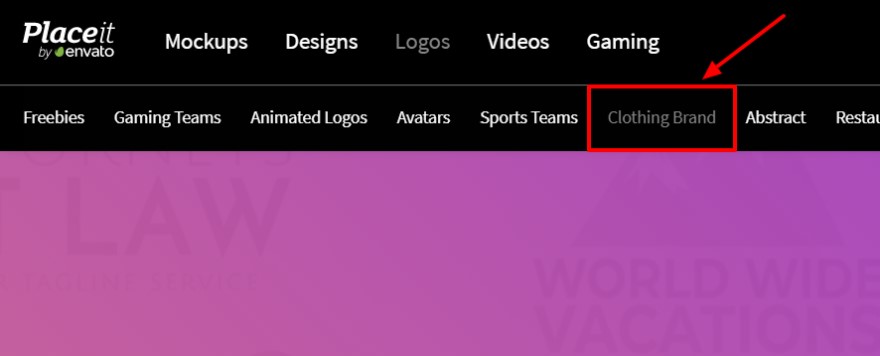 Whatever option you choose, you'll end up at the same screen, with a whole bunch of template options to browse through: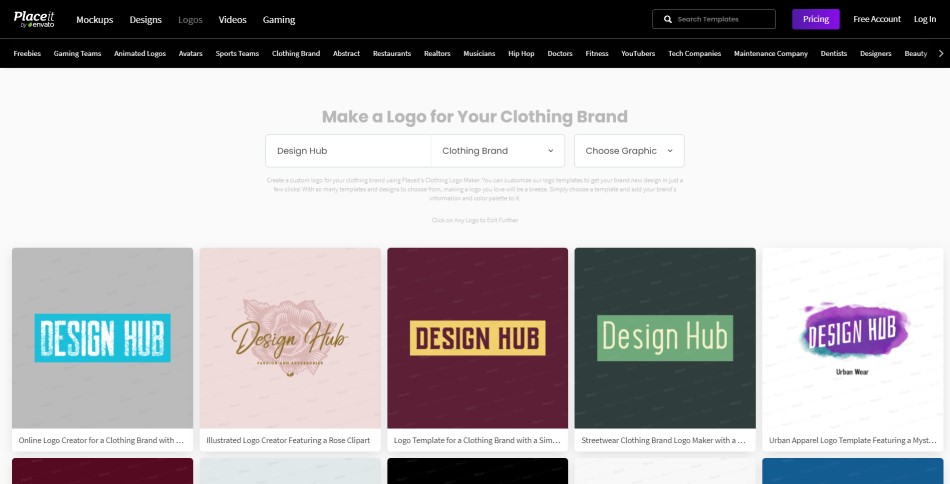 Here you have the option to input your brand name (if you haven't done so already) and also choose a graphic that will replace the graphic on all the logo template options.  We wouldn't recommend this though as it's better to wait to do your customizations when you pick an individual template.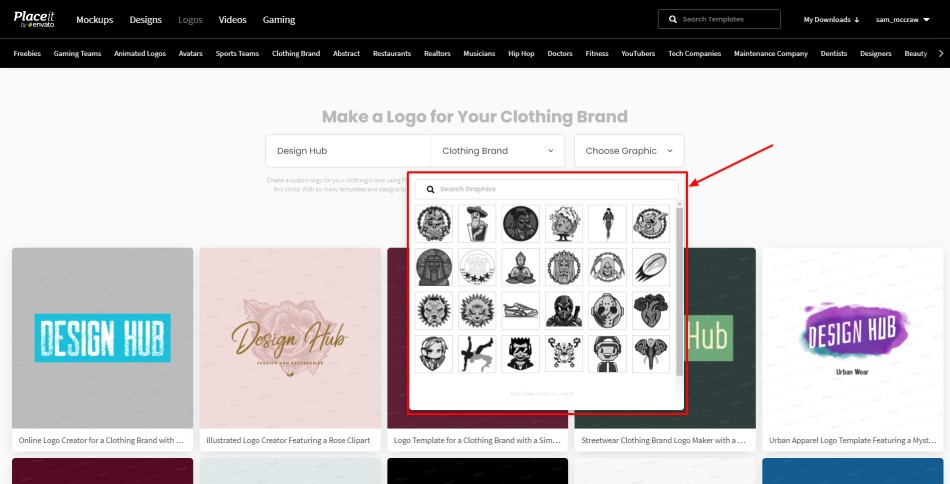 There is an incredible amount of templates available on Placeit. For the clothing brand category alone there are, at the time of writing, 59 pages with clothing brand logo templates. So, you're bound to find a few that have the look and feel you're going for:

To make your browsing easier, you can 'favorite' templates you like and come back to view your saved templates later on. To do that you need to be signed in to Placeit (you can get a free account) and then simply hover over templates you like the look of, and click the heart icon on the top right corner: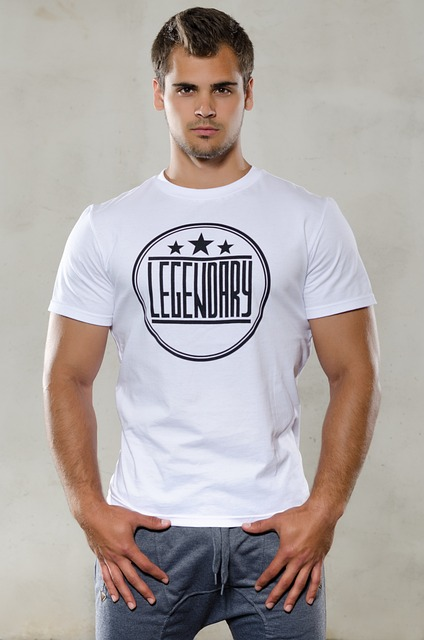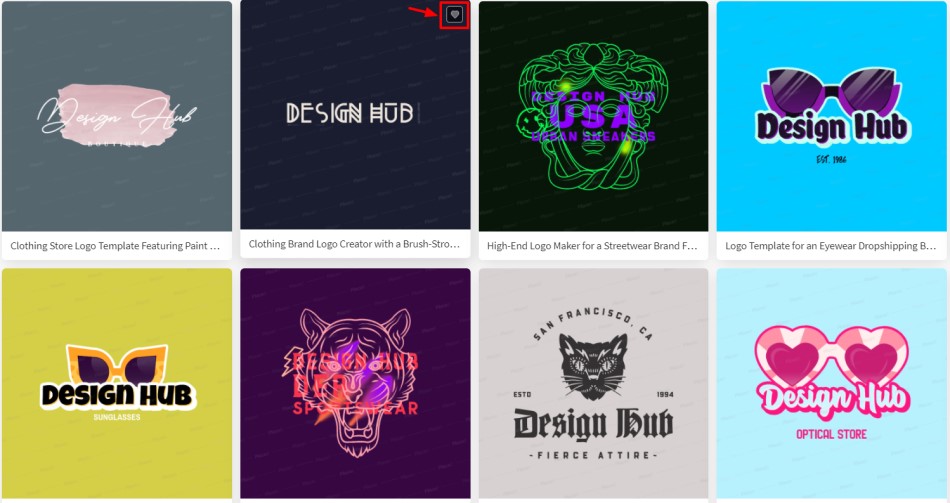 Once you've found a template you like, click on it to go to the editor.
---
#3 Customizing your template:
Now comes the fun part – customizing your chosen logo template!
This is roughly how your editor will look too if you're on a desktop, regardless of what template you choose.
You'll have the text options on the left-hand side, the logo image preview in the center, and on the right-hand side will be the color options and the icons/graphics.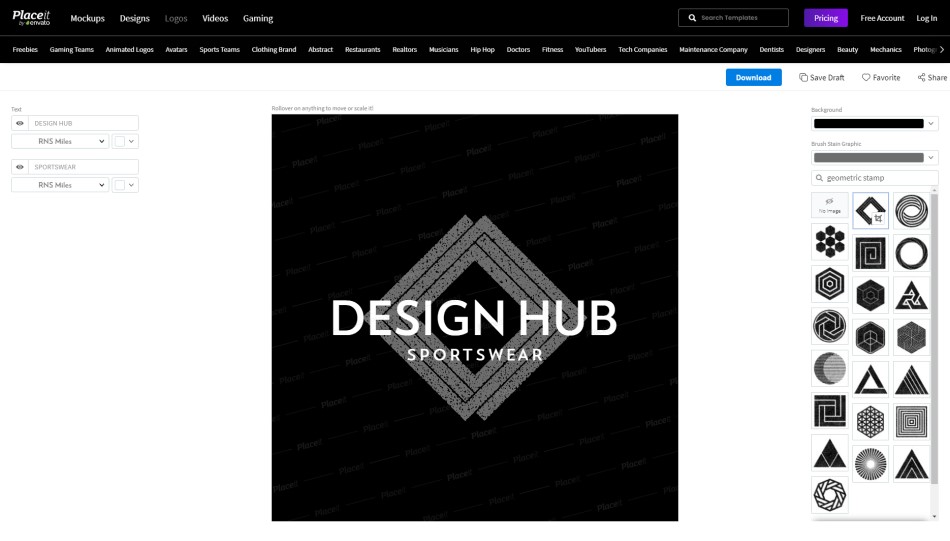 If you scroll down the page you'll also see some suggestions for logos that have a similar style to the one you selected, and other suggested templates too: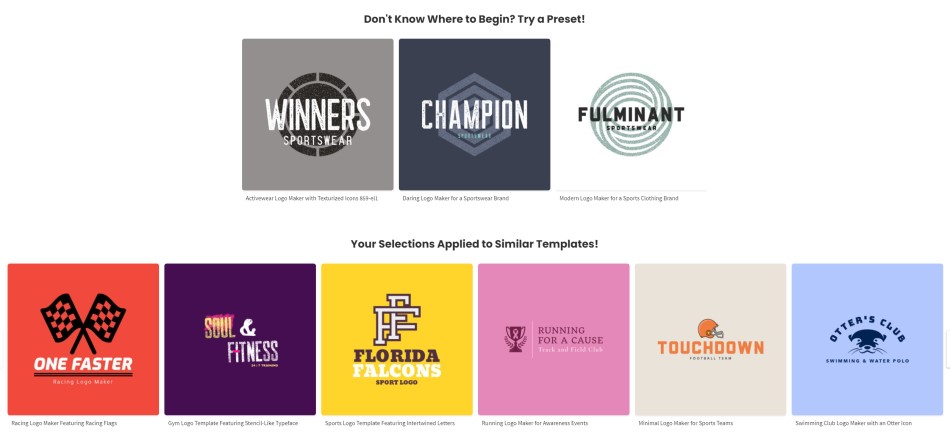 Back to the logo customization – the text customizations are straight forward. If there are multiple lines of text you'll have more than one text field.
You just need to enter the text you want or click on the 'eye' icon if you don't want a specific text field to be visible.
You can also easily change the text font and color too.  All changes you make will be applied immediately:
The options on the right side are very simple – you can change the background color of your logo (You can select transparent too) and you can also change the color of the main graphic.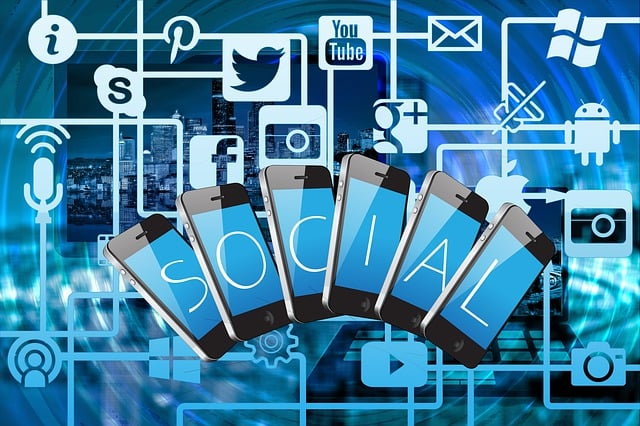 If you have a specific color you want to use and have the code for it, you can paste that into the relevant field: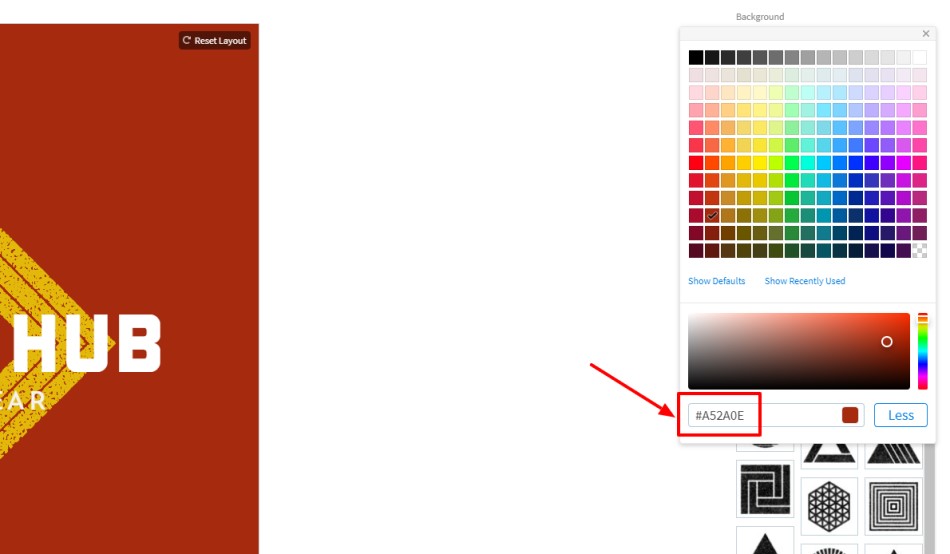 If you want to look for specific graphics you can search for them. For example, we search for 'abstract' graphics and go these results: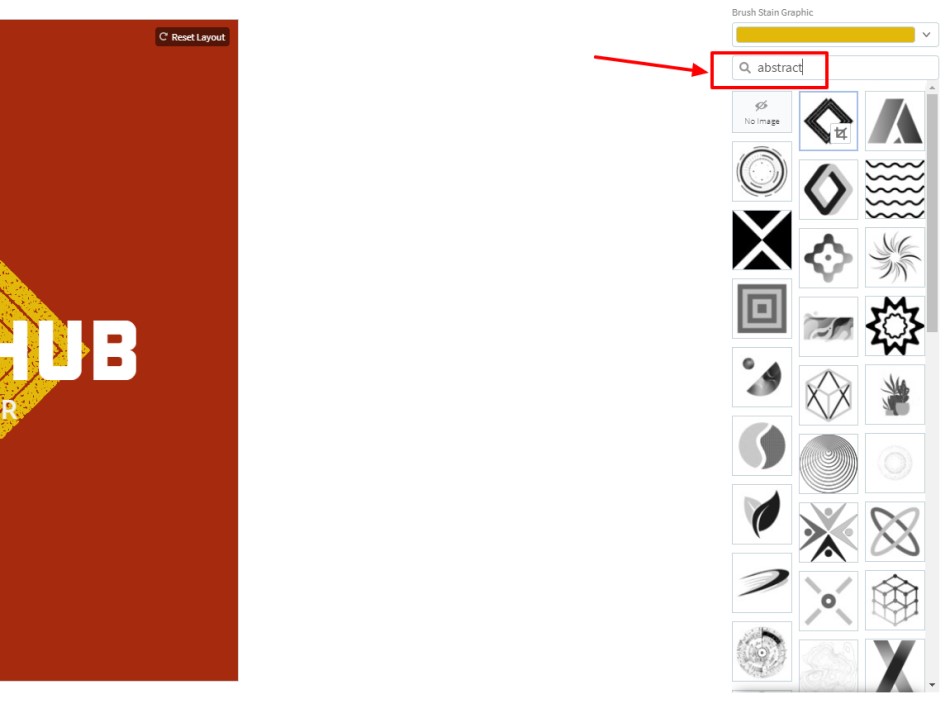 You can also reposition, resize, and rotate elements of the templates by hovering over them and applying your customizations: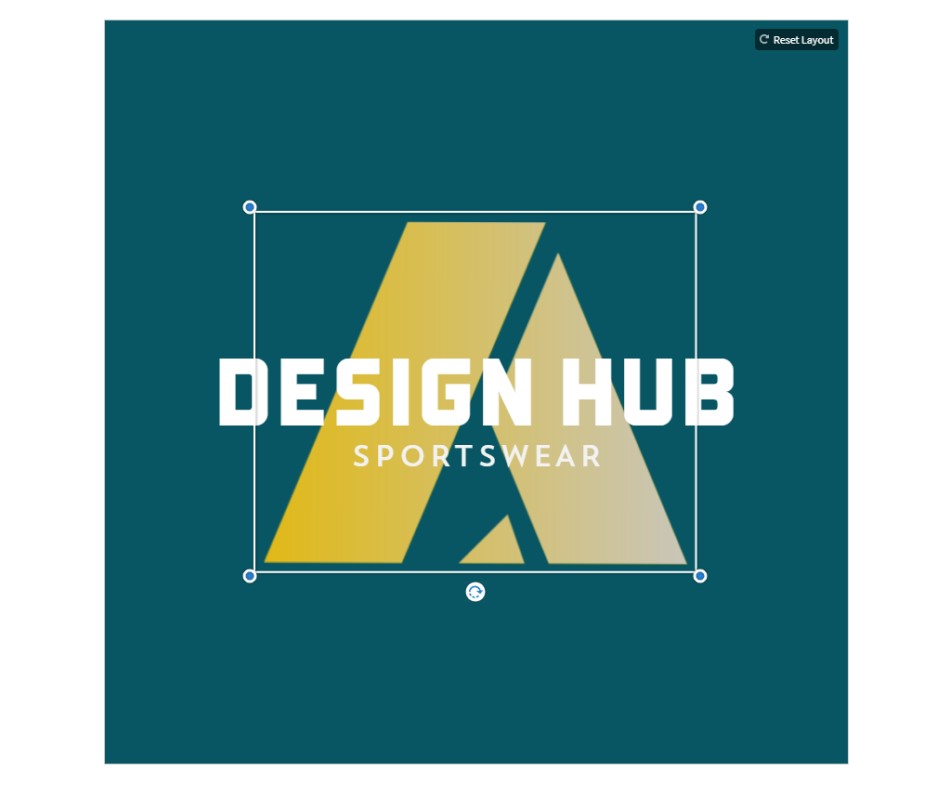 If you're not happy with the changes you've made, you can always click the 'reset layout' on the top right corner to go back to the original template layout.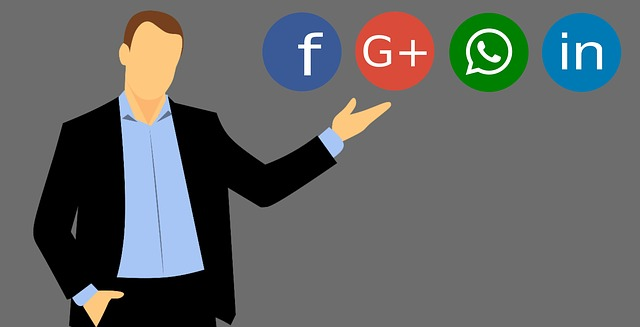 When you're happy with your logo click the download button, you'll have to either purchase the logo individually or get a Placeit subscription to complete the download process (We go into detail about the pricing in the next section).
When you download your logo template you'll be given two versions (both 4000x4000px), one with a background and one with a transparent background:

Our final logo
Here's the final version of the logo we made – we think it's pretty cool: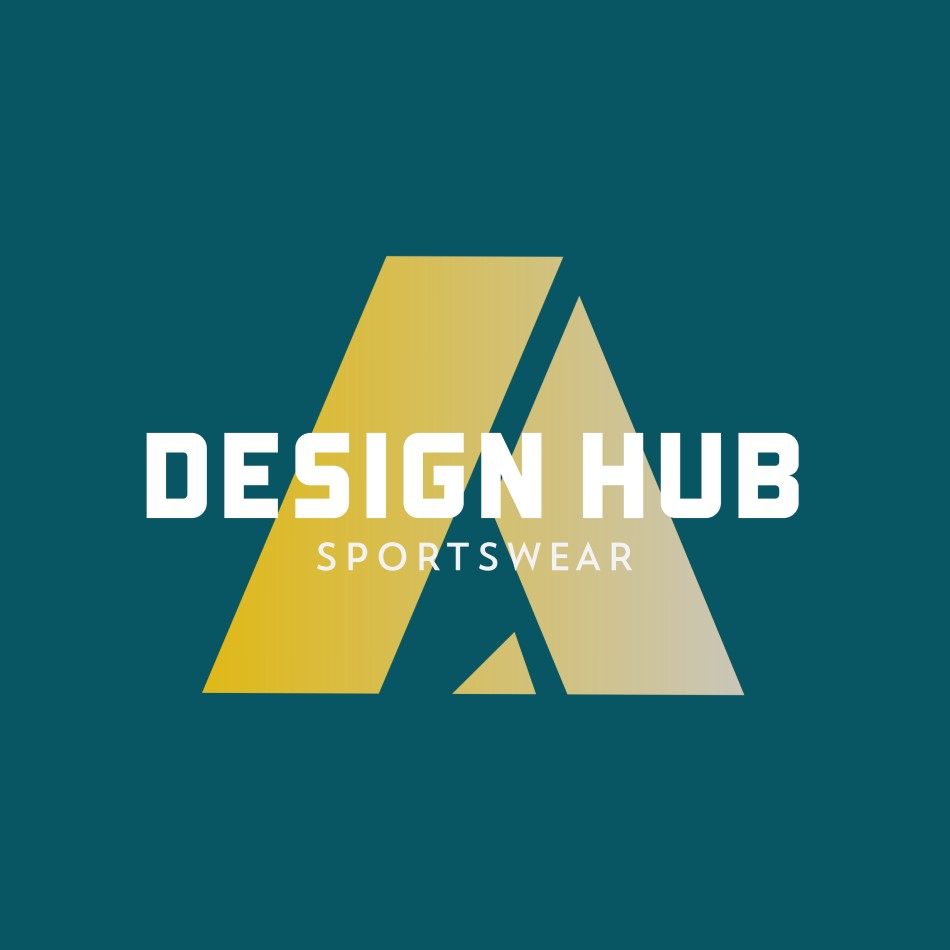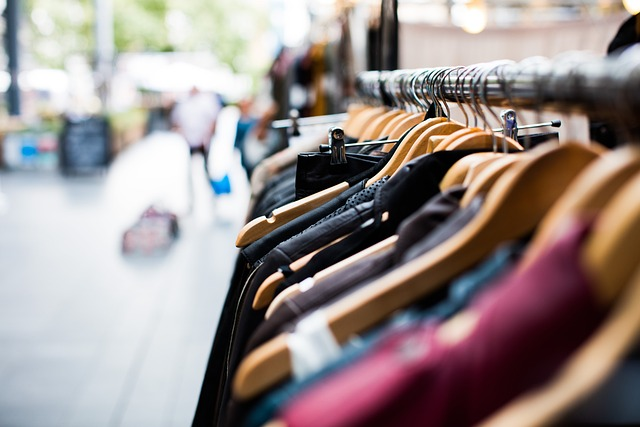 Top tip: Create logo variations
If you plan to use your logo on a variety of platforms you're going to want to create different variations of your logo, for example:
Just the main graphic
A dark version
Just the logo text
etc.
Creating these variations will mean you'll have all the assets you need, just in case.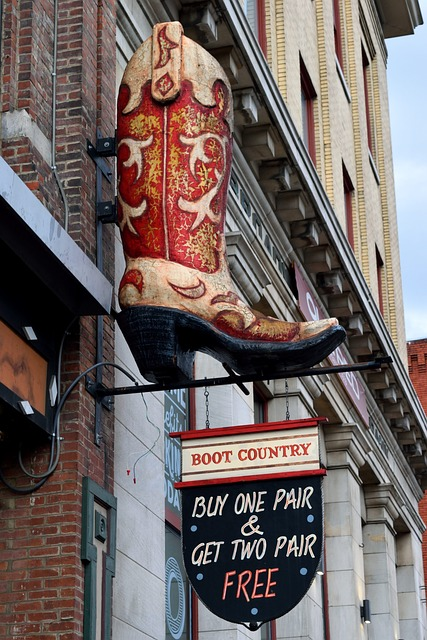 To get all these, we recommend you get a Placeit subscription which will work out much cheaper than if you bought each of the variations separately. We'll go into details about the pricing in the next section.
As an example, here are some of the variations we mentioned:
---
#4 Pricing
On Placeit you can either buy templates individually or get them for 'free' if you get a paid Placeit subscription (which offers unlimited downloads of all templates on the site).  Here are the prices for the logo templates:
100% free templates (We cover these in a section a bit further down in the article)
Individual logo template (plus transparent version): $39.95
'Free' with a Placeit subscription (Unlimited downloads):

Monthly plan: $14.95
Annual plan: $89.69
As we mentioned previously, we highly recommend you create multiple variations of your logo to ensure you have all the logo assets you need.
You could potentially get a monthly subscription to Placeit for $14.95, download all the logo variations you need and then cancel your subscription if you don't need any more than for one month. Saves you a lot of money!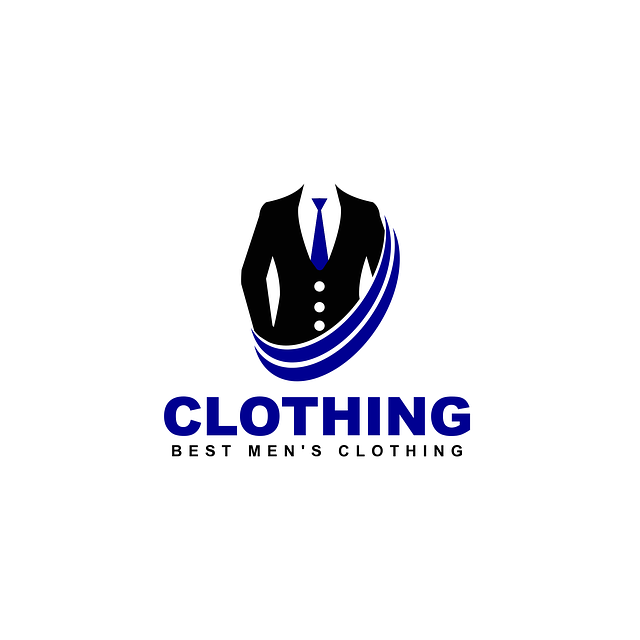 However, Placeit offers so many different templates that a subscription is more than worth it, in our opinion.
---
#5 Licensing
Thankfully Placeit has created a page that outlines their license in a 'human-readable' format so everything is pretty clear.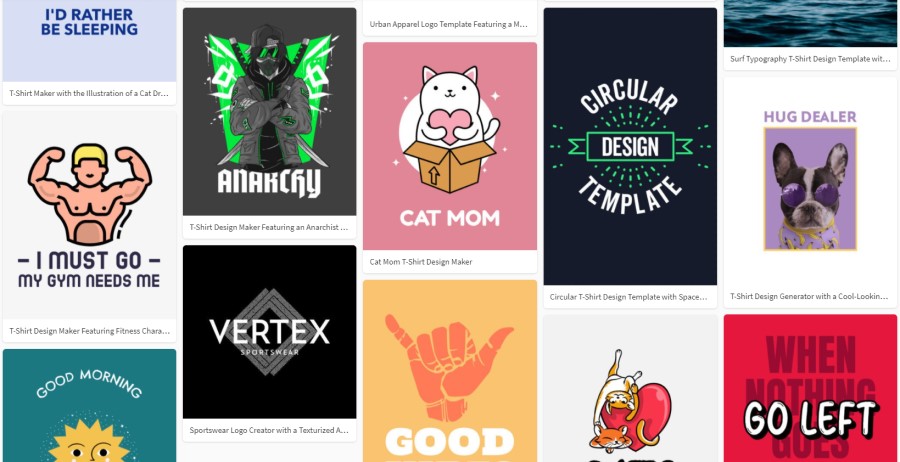 Everything you create on Placeit is copyright free and can be used for commercial purposes. You can even sell and trademark the designs you make on Placeit!
Obviously, all this means you can use any logo you create on Placeit with no problems. Check out the full details of the Placeit license here.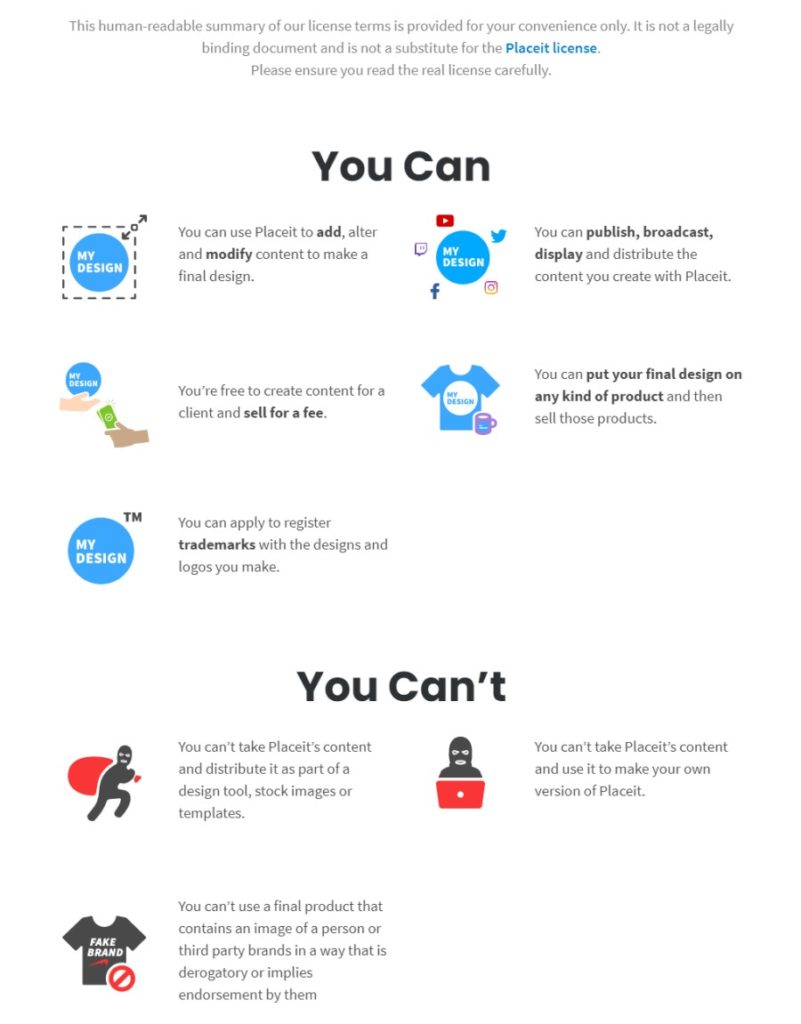 ---
#6 Free logo templates on Placeit
If you're on a tight budget you can find some 100% free templates on Placeit.
To access them, go to the logo section of the main menu and click on 'Freebies':

There are currently a decent amount of free logo templates (125 at the time of writing) and we're sure Placeit will continue to add more as time goes on.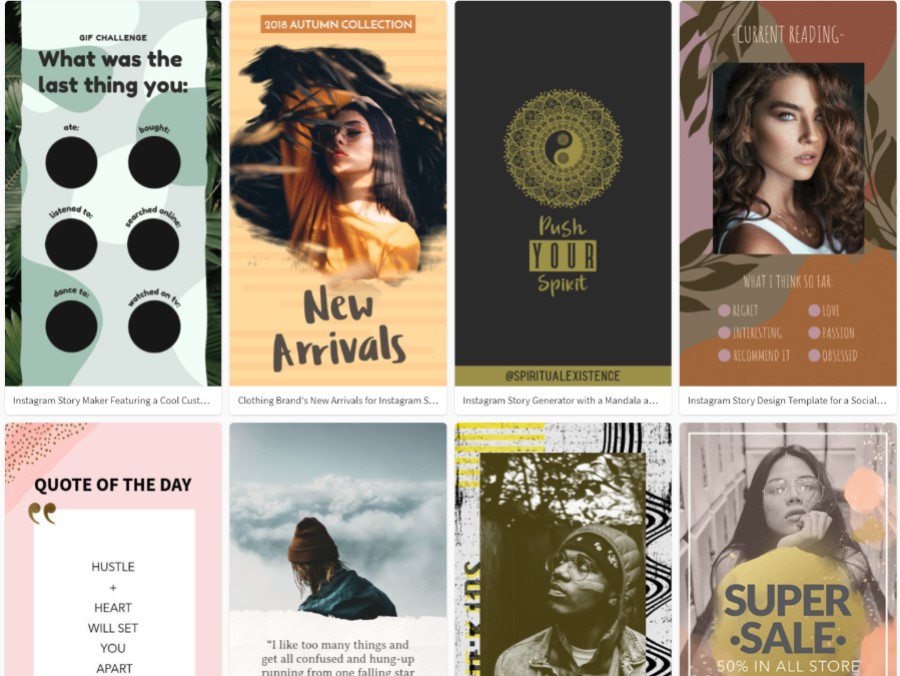 There are some templates that would fit a clothing brand, so definitely check out what they have on offer for free and you might just find something that has the look and feel you're after.
One thing to note is that the free templates don't seem to have the same amount of graphics available as the premium templates. However, there is still plenty there to be able to create some incredible logos!
Here are some of the free templates: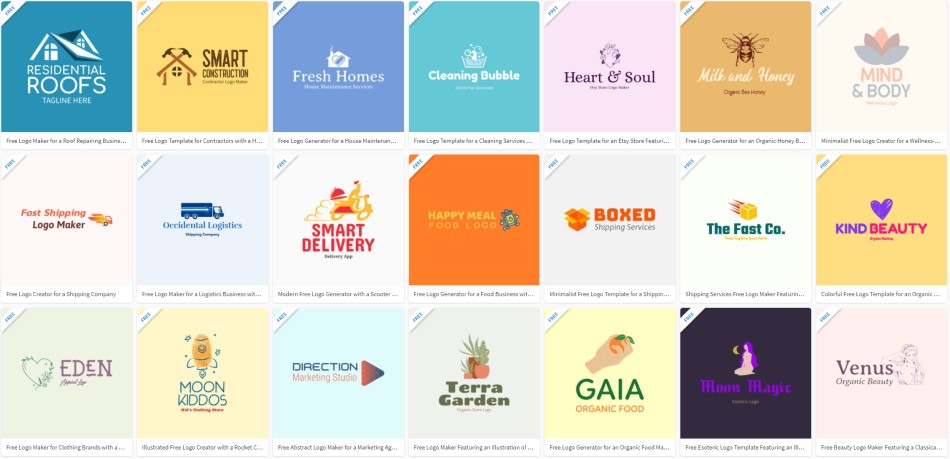 ---
#7 How else you can use Placeit
If you're trying to create and promote a successful clothing fashion brand then Placeit has so much more to offer you than simply the ability to create great looking logos.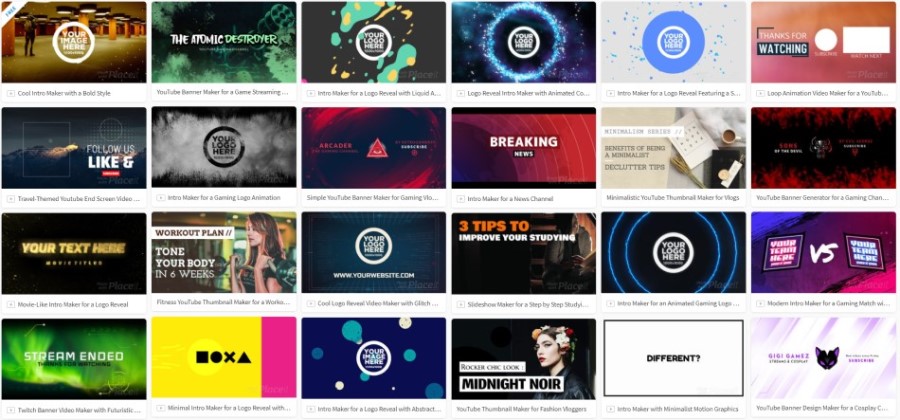 Here's are a few other ways you could utilize Placeit:
Apparel Mockups – Placeit has one of the most popular t-shirt mockup generators going, and this is something you could use to add awesome lifestyle images to your online store or use their apparel mockups to promote your products on social media: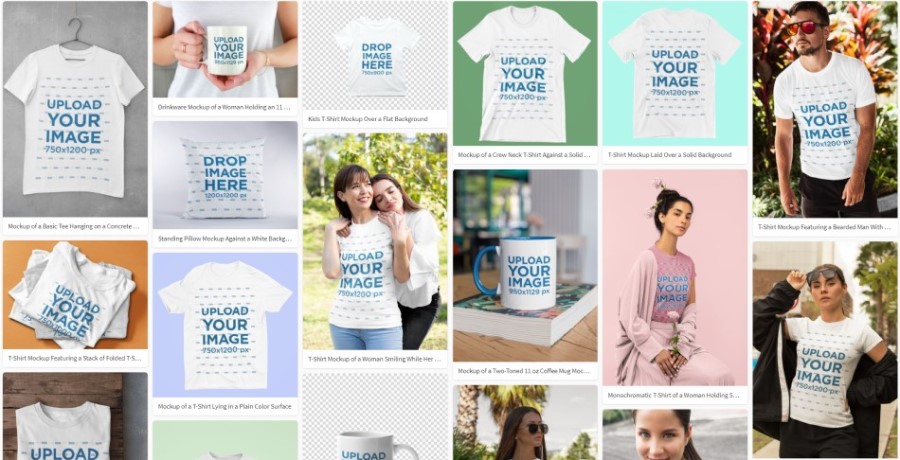 Apparel designs – if you need apparel designs for your products you can create these with Placeit too, and as even their logo templates work for this purpose as well: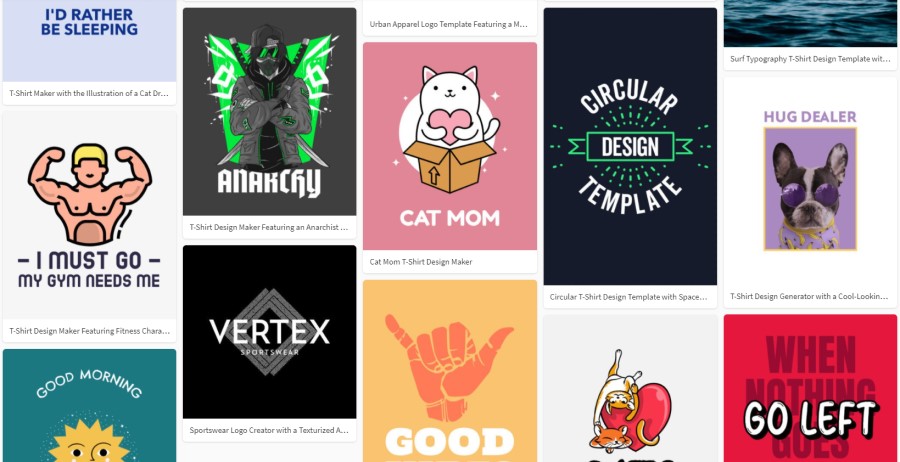 Social media templates – Placeit also has templates for all the major social platforms. With their tool you can create Instagram posts and stories, Facebook posts and banners, Pinterest pins, and even more – perfect for getting the word out there about your clothing brand: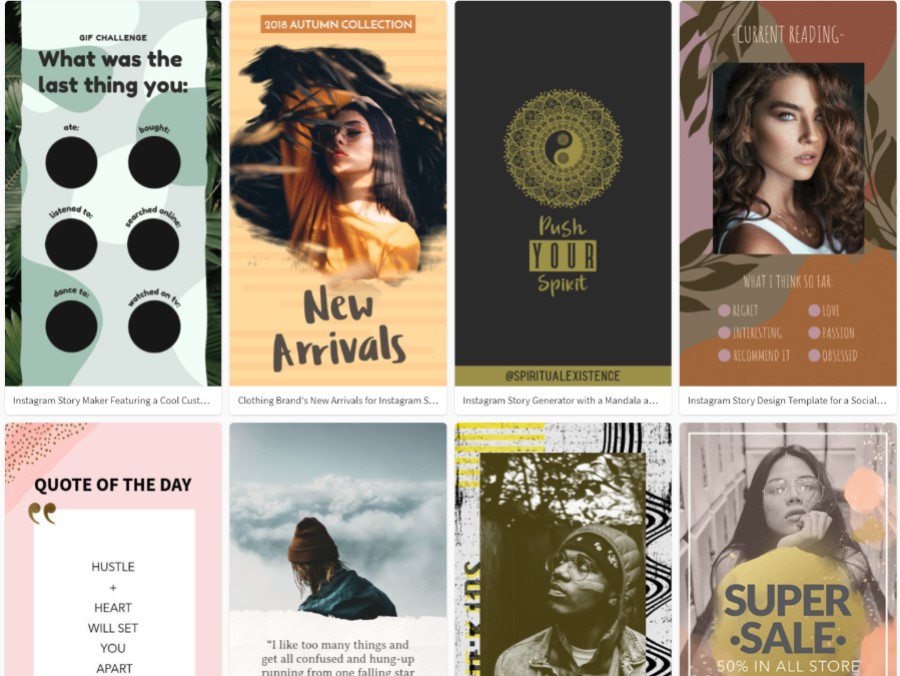 YouTube templates – If you plan to create a YouTube channel for your clothing brand, then you can create many of the designs you'll need for that with Placeit too, including channel banners, thumbnails, intros, and more: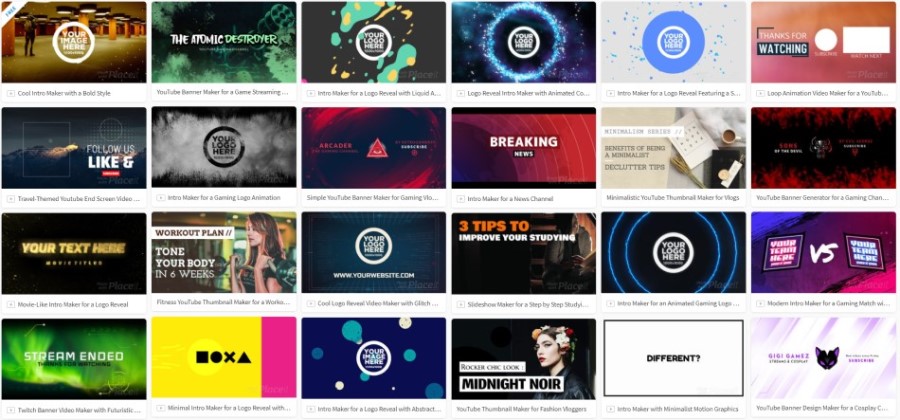 ---
#8 Alternative clothing brand logo makers
Placeit is an amazing tool that offers an enormous amount of incredible templates. However, there are a few good sites like Placeit.  When it comes to logo makers here are a few alternatives we recommend:
---
Final thoughts
So there you have it. That's how you can easily create a quality logo (and more) for your clothing brand.
If you're looking for an affordable option but still care about the quality of your logo, we're positive this guide will help you create your perfect logo.
We hope this article helped you out. If you have any questions or comments leave them down below and we'll get back to you there.